Services We Offer At
Designing Destinies
With Nikki
Schedule A Free 30 Minute Consultation
Strengths Finder
Learn Your Strengths With A Gallup-Certified Strengths Coach
Your greatest power and potential reside in the distinct, predictable ways you think, feel and act. Knowing and using your strengths contributes to positive emotions, personal engagement and increased productivity, leading to true fulfillment and wellbeing.
According to Gallup's research, people who know their strengths and use them are 3X more likely to report having an excellent quality of life than those who do not know their strengths, and people who use their strengths at work are 6X more likely to be engaged in their jobs.
Top 5 Strengths
One 60-Minute Session
A consulting conversation over the phone that will enhance your understanding of the power and potential inherent in your unique talents.
We will discuss your Clifton Strengths Top 5 results and discoveries to help you become more aware of where you use your natural talents in your life. Together, we will identify specific actions to take to apply your talents in areas that matter most to you.
34 Theme Sequence Series
Three Hour Consulting Sessions
For individuals who are ready to go beyond knowing a little about their talents to fully appreciating and understanding their natural talents and strengths.
You will gain:
» A deeper understanding of your strengths profile
» New insights into your talents
» A greater appreciation of the unique ways you think, feel and behave
» Specific strategies for developing your talents and using them to
accomplish what matters most to you
Team Consulting Session
Half Day, Full Day and Offsite Retreats
Building social awareness around team strengths, team talent domains and team commitments, this consulting program provides strategies to target strengths, transform dynamics, and improve lives.
Learn how to harness and appreciate the unique strengths of others to best maximize your team's performance outcomes.
Designed to boost professional productivity and engagement, participants learn techniques and strategies for helping individuals and teams work together, address and overcome challenges, and achieve success.
Strengths Consulting Contracts
6 Month Contracts
Including three 2 hour team building sessions and a full 34 workshop, a Strengths Consulting Contract session focuses on growing your company from the inside out.
Learn how to take engagement pulse checks within your workforce, how to build strong employee review processes, and enjoy weekly strategy consults.
CliftonStrengths for Your Organization
Get the Best Out of Your People to Get the Best Out of Your Business
Workplaces that will win in the future require a change in strategy today. At the core of that strategy sits a focus on strengths.
CliftonStrengths solutions are essential to empowering your managers, developing your employees and improving your organization's performance.
A winning culture is one that values strengths-based development. Because a strengths-based workplace is transformational; it's a culture that focuses on continual growth and improvement among everyone in the organization.
1. Purpose vs. Paycheck
People want work that's meaningful to them. Understanding where they're strongest allows employees to connect with their company's purpose.
2. Development vs. Satisfaction
People don't really care about frivolous perks at work. They want to be developed in ways that tap into their natural talents so that they can succeed.
3. Coach vs. Boss
People want managers who can coach them to understand and apply their CliftonStrengths, and who value them as people and employees.
4. Conversations vs. Reviews
People want ongoing feedback and genuine discussions about how they're doing, not a one-time and one-sided meeting.
5. Strengths vs. Weaknesses
People want the chance to do what they naturally do best, every day. Because weaknesses never turn into strengths, and strengths develop infinitely.
6. Life vs. Job
People want an authentic relationship with managers that includes talk about both work and life. They want to work somewhere that values their strengths and invests in their ongoing development.
CliftonStrengths Boosts Your Business
The business case for CliftonStrengths Gallup research reveals that the most effective leaders are always investing in strengths. They understand that how they position, develop and empower their people makes all the difference in their workplace culture. And they experience firsthand the benefits, both measurable and immeasurable, that a strengths-based culture can bring to their business.
Invigorate your workspace today and schedule a free 30 minute consultation.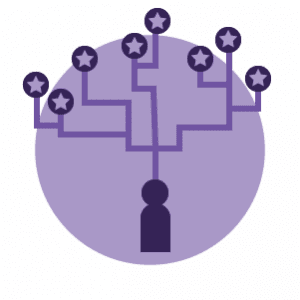 Habit Builder
Strengths Habit Program
Habits are an essential piece of personal growth and development. Invest in a program tailored for people who want to turn their talents into strengths, become more excellent in life and work, and increase their general well-being. Using daily exercises designed to build habits, the program is focused around getting the most out of your top 10 CliftonStrengths.
Every day is a different exercise with a focus on small actions (varying from 2 minutes to 20 minutes) and 1 journal investment a day.
Our Habit-Building Programs
Emotional Intelligence
Enveloping spheres of self-awareness, self-management, social awareness and relationship management, optimizing your emotional intelligence can be incredibly important and powerful. Emotional intelligence is strongly linked with better marriages, relationships, more success at work, and increased wellbeing.
This program pairs nicely with most consulting programs and is a powerful tool to helping clients to improve almost all facets of their lives.
Happiness and Success at Work
This habit program is built on the principles of positive psychology and their applications to the workplace. It focuses on building positive relationships, creating greater meaning, more beneficial experiences, growth and development, and preparing for success.
Extensive research on each of these areas of growth demonstrate that they are each critically important to happiness, engagement, and success at work.
Building A Business
Designed for individuals who are in the hustle stage of the business, this program is meant to inspire passion and drive. It focuses purely on sales and marketing activities and helps entrepreneurs develop solid marketing and sales habits.
It is not an easy habit program. In fact, some call it more of an accountability program. We liken it to a sales bootcamp. Unlike the majority of habit programs, this program can assign up to 8 exercises a day and some of these exercises can be 60 minutes. We strongly suggest using this program if you are a new entrepreneur or you are struggling to get clients. It really works. You will get results if are able to stick to the exercises and follow the program.
Leverage your strengths and help to build long-lasting habits for success one day at a time.
GET STARTED TODAY
Contact Us