Services We Offer At
Designing Destinies
With Nikki
Schedule A Free 30 Minute Consultation
Build an Employee Experience Strategy
Build a journey that every employee takes with your organization. Include all interactions – before, during, and after they leave.
Purpose, Brand, and Culture
Build a foundation that determines how you customize elements of the employee life cycle and employee experience to represent your organization's unique identity. Employee and customer perceptions directly affect employee performance and your brand as an employer.
Employee Life Cycle
CEOs, HR directors, and business owners must get this right! Learn what components have the most impact on your employee's experience. The quality of the relationship that an employee has with their manager, the clarity of their role, the value they bring to their team, the space and place where they work and how their work affects their overall well being are all at the core.
Performance Development
We examine your goals and measurement rituals to create clarity by uncovering and aligning the greatest strengths and opportunities in your current approach. Whatever your current state, we will set priorities and build your implementation strategy to achieve greater performance on the individual, team and managerial levels.
Process Redesign
Build rituals that reflect your organization's distinctive purpose, brand and culture. Include it in your hiring and on-boarding, your performance reviews, development plans and even exit interviews. Everything from daily strategies for getting worked done to overall strategies for assessing and improving performance.
CliftonStrengths for Your Organization
Get the Best Out of Your People to Get the Best Out of Your Business
Workplaces that will win in the future require a change in strategy today. At the core of that strategy sits a focus on strengths.
CliftonStrengths solutions are essential to empowering your managers, developing your employees and improving your organization's performance.
A winning culture is one that values strengths-based development. Because a strengths-based workplace is transformational; it's a culture that focuses on continual growth and improvement among everyone in the organization.
1. Purpose vs. Paycheck
People want work that's meaningful to them. Understanding where they're strongest allows employees to connect with their company's purpose.
2. Development vs. Satisfaction
People don't really care about frivolous perks at work. They want to be developed in ways that tap into their natural talents so that they can succeed.
3. Coach vs. Boss
People want managers who can coach them to understand and apply their CliftonStrengths, and who value them as people and employees.
4. Conversations vs. Reviews
People want ongoing feedback and genuine discussions about how they're doing, not a one-time and one-sided meeting.
5. Strengths vs. Weaknesses
People want the chance to do what they naturally do best, every day. Because weaknesses never turn into strengths, and strengths develop infinitely.
6. Life vs. Job
People want an authentic relationship with managers that includes talk about both work and life. They want to work somewhere that values their strengths and invests in their ongoing development.
CliftonStrengths Boosts Your Business
The business case for CliftonStrengths Gallup research reveals that the most effective leaders are always investing in strengths. They understand that how they position, develop and empower their people makes all the difference in their workplace culture. And they experience firsthand the benefits, both measurable and immeasurable, that a strengths-based culture can bring to their business.
Invigorate your workspace today and schedule a free 30 minute consultation.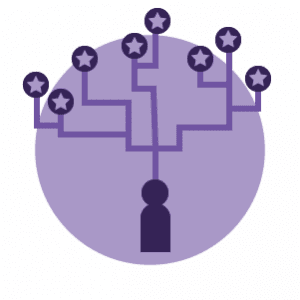 Improving Engagement
Engagement is the foundation to high performance and ongoing development.
When employees have their basic psychological needs met, they can focus on mastering their tasks and producing exceptional outcomes.
Employee Engagement
An engaged employee "shows up" physically, emotionally and cognitively. They are enthusiastic about what they have to do and they naturally find ways to improve and excel. Align your engagement strategies with your business goals.
Church Congregation Engagement
Engagement drives spiritual commitment, which has an impact on specific spiritual health outcomes. When purposely addressed, engagement translates into positive outcomes both inside and outside of the local faith community. Engaged members are:
10 times as likely to invite someone to come to church with them
3 times as likely to say they are extremely satisfied with their lives
Likely to spend more than 2 hours per week serving and helping others in their communities
Likely to give 3 times more to their faith community's annually
Community Engagement
Leadership 4TEENS is a Northern NV nonprofit dedicated to helping our high school students identify their strengths early on and assist them in connecting their diverse qualities and talents to fields in which they will naturally excel and thrive in.
Leverage your strengths and help to improve engagement for success one day at a time.
GET STARTED TODAY
Contact Us